Procrastinators Anonymous is a fellowship of men and women who share their experience, strength and hope with each other that they may solve their common problem and help others to recover from chronic procrastination.
Tuesday 18th July 2006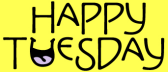 A cheery smile?
or a bit of bootstrapping?
Take your pick!
And everyone send lots of vibes and good wishes pro's way - it's Interview Day!
You can do it pro; you can do it!